Message from the President
Message from the President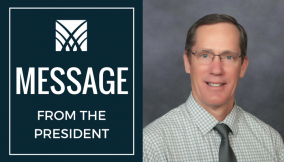 Isn't it funny how everyone in a small town seems to talk about the same thing? County fair, back to school, the total solar eclipse – our communities are certainly abuzz with chatter. Outsiders may call this living in a rut, but we know it as the way of life in small town Nebraska; it's one of those things that brings unity and gives us a sense of belonging.
Whether you've been a member of Archer Credit Union for days or decades, you might have heard the term, "field of membership." This phrase is at the foundation of our organization and it sets us apart from other financial institutions. Members of a credit union are linked by a common bond – or field of membership. At Archer Credit Union, our field of membership includes anyone who has agricultural and rural interests in the state of Nebraska, including but not limited to family members of those individuals.
Not only does our field of membership determine who can become a member of Archer Credit Union, it also drives our decision-making. As a member, you are a stakeholder in the credit union; the success of the credit union is a success for you. The Archer Credit Union board and staff are very conscious of the fact that unlike other financial institutions, the decisions we make will have a direct affect you. While we are excited for the future of Archer Credit Union, we are even more excited to be a part of your financial success.
For more information on the Credit Union Difference I encourage you to check out the NCUA website: mycreditunion.gov.
Dan Poppe
President/CEO