Message from the President
Message from the President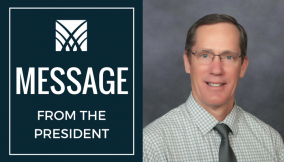 I hope you had the opportunity to spend the Fourth of July with family and friends. This time of year is a great reminder of the opportunity each of us has to grow and achieve our own idea of success in this great country. Archer Credit Union is devoted to doing our part to assist individuals in our local communities, no matter where they are at on the path to financial success.
As you may have seen on our Facebook page, our staff is celebrating the conclusion of building construction at our Central City branch – a wonderful result of ACCU's growth and success over the past few years. Without a doubt, we are growing! The recent changes at each of our branches are all a part of ACCU's dedication to helping our communities thrive. Our board and staff understand that ACCU's strength lies with its membership – the cooperative effort of each to bring financial well-being to all.
Credit union organizations at the state and federal level are also actively bringing awareness to the invaluable difference that credit unions bring to our country's financial well-being. The Nebraska Credit Union League (NCUL) and the Credit Union Legislative Action Council (CULAC) are dedicated to providing the resources we need to serve our members while protecting the credit union philosophy. I encourage you to take a moment to visit the websites of these organizations and support their efforts to advocate for your financial interests.
NCUL – http://www.nebrcul.org/
CULAC – https://www.cuna.org/culac/
Dan Poppe
President/CEO