Message from the President
Message from the President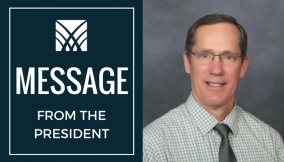 As we close the page on October and look toward November and the end of the year, it seems natural to take stock of what we have and what we are grateful for. Here at Archer Credit Union we are doing the same thing and the result is great news.
Our goal is to provide great value to you, our member, by bringing the highest rates possible while still managing our entire financial condition. Based on our recent assessment, we were happy to report an increase to our deposit rates (click here for our current rates). Not only is the increase of deposit rates a benefit to you when you invest in Archer Credit Union, but it also speaks volumes for the success our membership is experiencing.
I want to take the time to thank you for your membership with Archer Credit Union. As a member, you are participating in a financial cooperative where we have a cycle of mutual assistance with the common goal of the financial well-being of our members. The individual financial successes of our members result in lower lending rates, higher deposit rates, and philanthropic support of our local communities and organizations.
Whether it's coming together to help with the harvest or just to enjoy a meal and some football together – fall is the perfect time to share with friends and family. I hope this message finds you enjoying the same with your loved ones.
Dan Poppe
President/CEO