Simplify with Bill Pay
Simplify with Bill Pay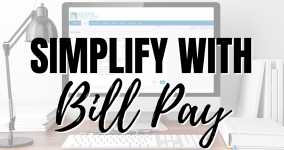 When you have ACCU's Bill Pay service, you'll have more freedom to enjoy life. Here's how Bill Pay give you convenience, savings, and security. You can:
View and pay your bills electronically, all in one place.

Make secure payments to any person or company anwhere, anytime.

Verify your account balance as you pay your bills.

Automate recurring payments to save time each month.

Receive email and text reminders when bills are due.
Here's How ACCU's Bill Pay service works:
Our Bill Pay service makes it simple to set up your bills online with just a few clicks. Within a matter of minutes you'll never have to think about your bills again with the option of setting up automatic reoccurring payments. Click here for more information on paying a bill.
But Bill Pay isn't just for paying bills anymore. You can also transfer money to another person without sharing banking information with them! Click here for more information on paying a person.
Still working on consolidating your accounts with Archer Credit Union? That's ok, our Bill Pay service makes it easy to transfer money to your account at another financial institution. Click here for more information.
Once all of your payments are set up, you can view a monthly snapshot of your payments that are pending or processed using the platform's calendar or list view.
How do I enroll in ACCU's Bill Pay?
You will need to log into ACCU's Online Banking and select "Bill Pay" from the Online Services drop down menu.


Don't already have ACCU's Online Banking? Click here for first-time log in instructions.
Then follow the instructions to register for Bill Pay. Once you receive confirmation via email that your registration is complete, you can log in and get started setting up payments!
Click here for more information about our Bill Pay service.