Now Offering 90 Days, No Payments!
Now Offering 90 Days, No Payments!
We're kicking off summer break with a HOT deal! With us, you can hit pause on your new consumer loan payments leaving more time for the fun stuff this summer!
If you apply and are approved for a new consumer loan or refinance your consumer loan from another financial institution, we'll give you 90 days of no payments! You heard that right, this offer is available to all consumer loans over $2001.00! Only mortgage, business, and PAL loans are excluded from this promotion.
This offer is only available from May 1 through June 30, 2023, so schedule an appointment with us today!
Competitive rates and terms.*
ASAP loan approval process at any of our four locations.
Easy payment options with payroll deduction, automatic payment or scheduled internal transfers.
Option of no payments for the first 90 days.* NOTE: Interest will begin to accrue from the loan open date and will be amortize over the applicable loan term.
Optional Credit Life and Disability protection on vehicle loans: coverage for such things as death, disability and involuntary unemployment.
Optional Guaranteed Asset Protection (GAP) coverage which includes Auto Deductible Reimbursement (ADP) on vehicle loans. GAP insurance helps fill the gap in the event a loss exceeds the value of the vehicle. ADR reimburses you up to $500 on your deductible if your vehicle is repaired due to an accident.
Optional Route 66 Extended Warranty on vehicle loans.
Up to 120% financing including tax, license, Extended Warranty, and GAP.*
APPLY BEFORE YOU BUY - GET PRE-APPROVED.
Fast-track the buying process by getting pre-approved before you walk into the dealership. You'll be surprised at how big of a difference pre-approval can make during price negotiations! Find out of pre-approval is right for you by calling us today!
BUT WAIT, THERE'S MORE!

For ALL consumer loans that are approved between May 1 and June 30, 2023, your name will be put into a hat. We will be drawing WEEKLY for a $50 gas card!!** Contact us today to apply today!
The Fine Print:
*Offer is subject to approval. Membership qualifications apply. No payment for 90 days offer applicable for new consumer loan financing or refinancing from another financial institution. Interest on all loans will begin to accrue from the loan open date and will be amortized on the applicable loan term. Offer valid May 1 through June 30, 2023. Insured by NCUA.
**No purchase necessary. Must be 18 years of age or older, and a member in good standing to participate. Contest period. Applies to all Archer Cooperative Credit Union ("Credit Union") members in good standing who finance a new consumer loan greater than $2001.00 and manual entries, as provided in the Official Rules, during the contest period of May 1, 2023 through June 30, 2023. By submitting any entry, you agree to be bound by the Official Rules. Contact the Credit Union at (308) 946-3070, or write us at Archer Credit Union PO Box 284 Central City NE 68826, to obtain a complete copy of the official contest rules for this promotion. Entry in this contest or acceptance of any prize constitutes acceptance of the Official Contest Rules.
Congratulations to our Gas Card Giveaway Weekly Winners!
Week #1: Tanner Parsons
Week #2: Daemon Avilez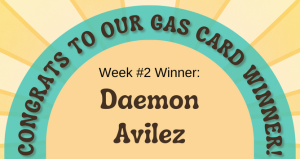 Week #3: Brayden Meyer