ACCU Hires Member Service Representative
ACCU Hires Member Service Representative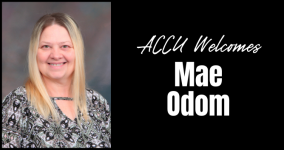 ACCU is excited to announce the hiring of Mae Odom as a Member Service Representative at the Central City location.
Mae will serve as the first point-of-contact for members. She receives and processes member financial transactions, including deposits, withdrawals and loan payments; assists with opening and closing accounts, assists with products and services and resolves problems. She will grow relationships and create advocates through her caring, meaningful service.
Rex Minert, President/CEO of ACCU, states, "We are very excited with the newest addition to our credit union team. Mae brings with her experience and a strong desire to serve others. We are looking forward to her being a part of the Archer Credit Union family."
"I am so blessed to join the Archer Credit Union team. Every time I walk into the Credit Union, everyone is so kind. I am looking forward to helping members in the same way you've all been to me. I am so excited to get to work and volunteer in and around Central City."
Mae grew up in Silsbee, Texas. She and her husband, David, moved to Nebraska last September. "David is an over-the-road truck driver. One day, he said that he wanted to show me the beautiful state of Nebraska. We came up here from Texas and looked in Omaha and then Lincoln before we visited Central City. Once we came here, we both knew this was the place we wanted to live. We love this community. Now, I get to work at a place full of such happy and caring people. Everything is falling right into place."