ACCU Welcomes Katie Greger
ACCU Welcomes Katie Greger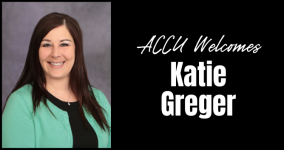 We are thrilled to welcome Katie Greger as a Member Service Representative of the Central City location!
Katie will serve as the first point-of-contact for members. She receives and processes member financial transactions, including deposits, withdrawals and loan payments; assists with opening and closing accounts, assists with products and services and resolves problems. She will grow relationships and create advocates through her caring, meaningful service.
Rex Minert, President/CEO of Archer Credit Union, states, "We are very excited with the newest addition to our credit union team. Katie brings with her experience and a strong desire to serve others. We are looking forward to her being a part of the Archer Credit Union family."
"I am thrilled to join the Archer Credit Union team. I truly believe Archer Credit Union puts the heart into banking. I'm looking forward to growing relationships by offering caring and meaningful service for each of our members," says Katie.
Katie grew up in Central City, Nebraska. She has stayed close to her roots to raise her son, Eli, who will graduate from Central City High School this year. Eli is attending UNL in the fall and majoring in Business Administration. Prior to joining Archer Credit Union, Katie was the Floor Manager for Riddles Jewelry in Grand Island.