Take Control of Your Debit Card
Take Control of Your Debit Card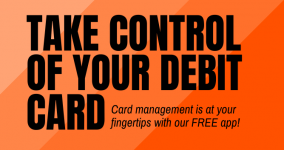 We are pleased to introduce CardValet, a mobile card management app that helps reduce account fraud by allowing ACCU cardholders to monitor accounts with their smartphone and control how, when and where their debit card is used.
CardValet was developed in partnership with Fiserv and is available in the Apple App Store or Google Play. Once CardValet is set up, cardholders have the ability to "turn off" thier card when not in use, establish transaction spending limits and decline a transaction when the amount exceeds a predefined threshold.
Real-time smartphone alerts can be customized based on the types of information each cardholder would like to receive. For example, a cardholder can set up an alert to be notified when a card is used, when a transaction is approved and exceeds any of the permitted use policies, or when a card transaction has been attempted but has been declined based on the parameters established.
CardValet offers cardholders the capability of linking additional accounts to better monitor dependent spending. So, by using the GPS system in their smartphone, geographic use restrictions can be established for dependent cardholders along with restrictions on merchant type and spending limits.
CardValet is also ideal for small businesses. All transactions can be monitored or controlled for specific merchant categories, such as travel, restaurants or entertainment, and can be denied or reported for types of merchants deemed not business related.
CardValet is ideal for users who want to actively manage their cards. The app's inventive and thoughtful approach to card management makes the user experience as easy as possible. We are excited to offer this tool to our cardholders! Not only is CardValet user-friendly and convenient, but it will aide in our continued efforts to prevent fraud and identity theft for our cardholders.
The CardValet App is free for all ACCU Debit Cardholders. Download CardValet and take control of your debit card today!
For more information, Click Here to watch our YouTube video!