CC Boosters Fundraiser: Make-It Take-It Challenge
CC Boosters Fundraiser: Make-It Take-It Challenge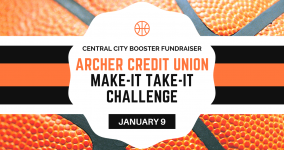 Catch us at the Central City v Fillmore girls and boys basketball games on January 9 for our 3rd annual CCPS Booster Club fundraiser. During the girls and boys basketball games, we will be selling tickets for the crowd favorite Make-It Take-It Challenge!
At halftime of each game, we will draw 10 tickets. Each person drawn will have the chance to make a basket. Sink a free throw to win $25 for yourself and $25 for the Booster Club. Then, one person will get 3 chances to make a half-court shot. Making the half-court shot would mean $100 in the winner's pocket and $500 donated to the Booster Club!! Plus! Each ticket drawn will go home with some ACCU swag.
1 ticket = $1
6 tickets = $5
Check out all the details on our Make-It Take-It Facebook Event page.