Celebrate CU Youth Month With ACCU
Celebrate CU Youth Month With ACCU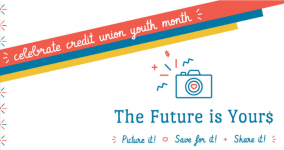 Archer Credit Union wants to help your kids see the importance in saving for the future.
Our young people have limitless potential. Archer Credit Union wants to help kids achieve it. This April, we will celebrate National Credit Union Youth Month with our 2019 theme: "The future is yours… Picture it! Save for it! Share it!"
Together, we're encouraging kids to express themselves through pictures, sharing their visions for their own financial futures so we can help them get there. By staying true to credit union philosophy in an engaging new way, we can set our kids on the path to financial education, understanding and security.
During the month of April, Archer Credit Union is focusing on helping you teach your children to learn good financial habits. Like us on Facebook for tips and tricks on teaching good money habits: www.facebook.com/archerccu
In fact, we are so excited to get kids thinking about their future that we decided to throw a kick off party on Saturday, April 6 at 1:30 pm at the State Theater featuring the movie Back to the Future. Doors will open at 1:00pm.
Reminder - Our Junior Growers savings account for kids 0-12 offers a great opportunity for kids to learn how to save money with opportunities for giveaways, rewards, and special event invitations. Stop by one of our three locations for more information!