Earning & Learning -Teens and Money
Earning & Learning -Teens and Money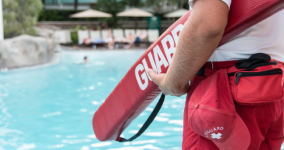 Summertime is approaching, and this means summer jobs and extra money for many teens. This also provides parents with opportunities to teach some much-needed money skills.
How badly are these skills needed? Consider this: In a recent study, 92% of undergraduates used credit cards for education expenses such as tuition and textbooks. Additionally, almost 20% of seniors are carrying credit card balances of more than $7,000. Add that to student loans, and graduates on average owe close to $30,000 in debt. More people are applying for personal bankruptcy at age 25 or younger.
The "earn and spend" philosophy comes naturally, but leaves one with nothing to show for a summer of hard work. Setting goals and saving for them will offer much greater rewards as well as a valuable life lesson. Good savings habits learned early in life will help avoid poor spending habits later.
Begin with the goal. It may be a purchase, a trip or simply a target amount of money to save by the end of summer. Determine how much money must be saved from each paycheck to meet the goal. Set reasonable goals so there's still some pocket money left. Decide if you, as the parent, are willing to provide an incentive, such as a cash bonus when the goal is achieved.
Archer Credit Union also can help set up special savings accounts, periodic automatic transfers, and direct deposits to help set your child up for financial success.
Discuss the benefits of compounding dividends with your child. Explain that when they put away money in a dividend-earning savings account, the credit union contributes to help them reach their goals.
This may be a good time to introduce your child to a checking account and a debit card. You can even help your student understand the power of "giving" with our Pay with Pride debit card program. When they get a Central City, St. Paul, Centura, or Nebraska Cristian branded debit card, for each transaction they make, ACCU will make a donation to their school! Plus, as a joint owner on the account, you can set up debit card transaction limits with our CardValet app, to help your student learn the basics of money management.
No matter what, when summer ends, your child can have something to show for their hard-earned money. In addition, they will be given the opportunity to learn patience, discipline and appreciation for the effort it takes to pay for their heart's desires.
Stop into one of our credit union locations and let's help your child get their account features set up today. In just a few minutes they'll be on their way to meeting their summer financial goals!