Message from the President
Message from the President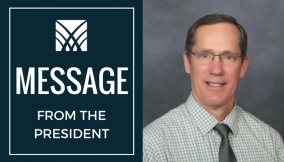 Wow! The time continues to fly by and suddenly 2018 is nearly history. The weather is sure giving us fits and making certain we know that winter is here. But we're Nebraskans – we're used to it – even if we grumble on occasion. :)
Looking back on this past year, it has really been exciting and fun. We are very blessed to have a stable team of the BEST folks in the financial institution industry. No matter which location you stop to visit, you will be met with smiles and knowledgeable people. We take it very seriously that you have entrusted your money to us, but we also make certain that you have an enjoyable experience in a friendly but professional environment.
Speaking of locations, things are coming together nicely for our St. Paul office. Roughly five years in the making, we have conducted feasibility studies, met with community leaders, and listened to our members. The end result – it is going to be a great fit!!!! We hope to break ground this next March at the latest, and expect to be fully up and running one year from now. We are already bringing new team members on board so they will be fully trained and ready to take care of business. We feel very strongly that we have a financial product that exceeds what anyone else offers – because we are owned by our depositors and we work hard to meet their needs.
And speaking of depositors, be sure to check out our new Share Certificate rates. We are very fortunate to have strong loan demand, so we are actively seeking to increase our deposits by offering interest rates that are outstanding. When that happens, our owners (depositors) are the BIG WINNERS! Click on our "Rates" tab and see what we have to offer.
Away from work, I'm very excited to celebrate the birth of our Savior with the upcoming Christmas season. Family is important to all of us, so please take the time to slow down and enjoy!
Merry Christmas and Happy New Year to you all!!
Dan Poppe
President/CEO