Welcome Jesse Anderson!
Welcome Jesse Anderson!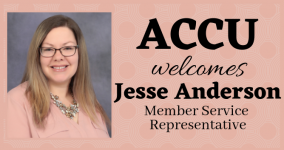 We are excited to have Jesse Anderson join our team as Member Service Representative of the Archer location.
Jesse will serve as the first point-of-contact for members at our Archer location. She will perform accounting duties, product/service assessments and provision of quality service. She will also asist in all other areas of credit union operation.
Jesse grew up in Fullerton, Nebraska. She is the daughter of Tom and Deb Beyerink. She graduated with her Associates degree in Accounting from Metropolitan Community College in Omaha, Nebraska and has worked on her Bachelor of Science in Accounting from Bellevue University.