Welcome Ruth Ihry!
Welcome Ruth Ihry!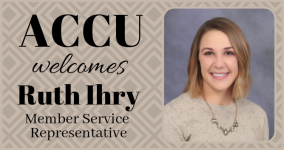 We are excited to welcome Ruth Ihry as Member Service Representative of our St. Paul location.
When our St. Paul location opens in the fall of 2019, she will serve as the first point-of-contact for members. She will perform accounting duties, products/services assessments and provision of quality service. She will also assist in all areas of credit union operations. In the meantime, she will be serving our membership at our other locations.
Ruth grew up in Valley City, north Dakota. She is the daughter of Tom and Dawn Ihry. She graduated from North Dakota State University with her Bachelor of Science in Agribusiness. Currently, she is getting her Masters in Journalism and Mass Communications at the University of Nebraska-Lincoln.