Welcome Tyler Eberle!
Welcome Tyler Eberle!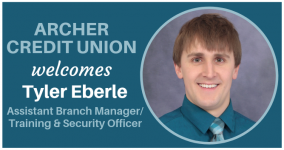 The next time you're in our Central City branch, be sure and say "Hi" to Tyler!
Archer Credit Union is excited to announce the hiring of Tyler Eberle as the Assistant Branch Manager of the Saint Paul location that is scheduled to open in the Fall of 2019.
Tyler will lead the Member Service Representative team in Saint Paul, and will be the first contact for members at our newest location. in addition, he will assist with security and training in all four ACCU locations. Until the Saint Paul location is open, he will be training at the other locations in Dannebrog, Archer, and Central City.
Eberle grew up in David City, Nebraska and is the son of Chas and Kathi Eberle. He graduated with his Bachelor of Science degree in Business. Tyler and his wife, Erica, recently moved to Saint Paul where Erica is working as a Physician Assistant at the Howard County Medical Center.