What's Stopping You?
What's Stopping You?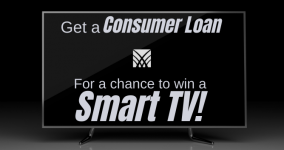 Something catch your eye? Is it time for you to get out and explore? Have you been feeling the need to hit the open road?
With ACCU's current consumer loan options, you'll be putting the pedal to the metal in no time.
Plus! From now until April 30, 2021, any new Consumer Loan will be entered to win 1 of 3 Smart TVs!!
So what's stopping you? Contact us below, stop in, or call any one of our four convenient locations to apply today!
Contest Rules:
No purchase necessary. Must be 18 years of age or older, and a member in good standing to participate. Contest period: Applies to all Archer Cooperative Credit Union ("Credit Union") members in good standing who close a consumer loan with Archer Cooperative Credit Union and manual entries, as provided in the Official Rules, during the contest period of February 1, 2021 through April 30,2021. By submitting any entry, you agree to be bound by the Official Rules. Contact the Credit Union at (308) 946-3070, or write us at Archer Credit Union PO Box 284 Central City NE 68826, to obtain a complete copy of the official contest rules for this promotion. Entry in this contest or acceptance of any prize constitutes acceptance of the Official Contest Rules.