Zywiec Named Loan Processing Specialist
Zywiec Named Loan Processing Specialist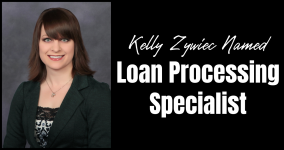 ACCU, with offices in Central City, Archer, Dannebrog, and soon-to-be St. Paul, is excited to announce Kelly Zywiec as new Loan Processing Specialist.
In this role, Kelly is responsible for assisting loan officers with their loan documents, processing and making loan disbursements, in addition to numerous other related duties.
Kelly celebrated 5 years with Archer Credit Union on January 5. She worked almost 5 years for Great Western Bank as a Teller and later as a Personal Banking Representative before joining the ACU team as a Member Service Representative.
Kelly is an active volunteer with TeamMates, a strengths-based mentoring program, equipping mentors to help students discover their individual strengths and talents and identifying opportunities for them to build on the ways that they are uniquely awesome. In addition, she represents Archer Credit Union at many of the area community events.
It's a pleasure to announce Kelly's move to our Lending department," says Rex Minert, President/CEO of Archer Credit Union, "She has worked hard and proven herself over the 5 years she has worked with us. She possesses remarkable member service skills; the entire ACU team extends its congratulations."
Kelly is the daughter of Richard and Julie Bernt. She grew up in Stratton, Nebraska. She graduated from University of Nebraska at Kearny in 2009. She started with Archer Credit Union in January of 2015. Her husband, Dominic, and her daughter, Evanora, reside in Central City.