Debit Card Information Center
Debit Card Information Center
We've taken everything you need to know about your Archer Credit Union Debit Card and put it right here! Feel free to click these topics to click the links below to the topic you need.
How to Activate Your Card
When you receive your card, the first thing you'll want to do is activate the card and set up a PIN number.
Call our Card Activation Phone Number: (800) 992-3808.

During the call, there are five authentication factors that are tested or entered. This is to verify that the right person has your debit card. Passing 4/5 of these factors will result in successful activation.

Calling from a phone number associated with your debit card;

Entering a phone number associated with your debit card;

Entering the CVV/CV2 code on the back of the debit card;

Entering the debit card's expiration date; and

Entering the last 4 of the cardholder's SSN.
For security purposes, you will have 3 attempts in a 24-hour period to activate the card successfully.
If you have any questions, please call (308) 946-3070 for assistance.
With the FREE CardValet mobile app, ACCU cardholders are able to control and monitor their debit card from wherever whenever.
Not only are you able to control how, when, and where your debit card can be used, but you can also turn the card off with the tap of your finger! Left your card at the last gas station - no sweat! Just open your CardValet app and click the card off until you are able to retrieve it or call ACCU to order a new card. You can also establish transaction spending limits or restrict transactions by merchant types. Think: restricting your teenager's first debit card to strictly a fuel card.
Real-time smartphone alerts can be customized based on the types of information you would like to receive. For example, a cardholder can set up an alert to be notified when a card is used, when a transaction is approved and exceeds any of the permitted use policies, or when a card transaction has been attempted but has been declined based on the parameters established.
CardValet is also ideal for small businesses. All transactions can be monitored or controlled for specific merchant categories, such as travel, restaurants or entertainment, and can be denied or reported for types of merchants deemed not business related.
In a world where card fraud is on the rise, download the CardValet app so you can actively manage your debit card on your terms.
The CardValet App is free for all ACCU Debit Cardholders.
Click your app's logo below to download CardValet and take control of your debit card today!
For more information, Click Here to watch our YouTube video!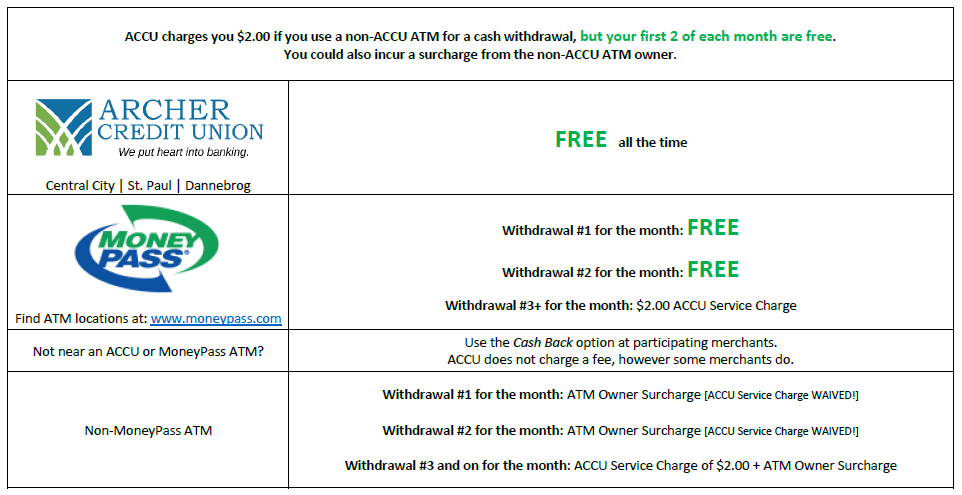 Click your app store's logo to download our Mobile Banking App and have the MoneyPass ATM Locator with you wherever you are!
Going on a trip? First, jealous! Second - if you're planning on using your debit card outside your normal spending area, it's always a good idea to add a travel exemption to your card. That way you'll avoid any pesky interruptions when you're trying to make a purchase.
Adding these travel exemptions has never been easier with the CardValet App! For a super easy step-by-step on how to enter your Travel Plan into CardValet, click here!
In most cases, our Card Care Center will reach out to you via text, email, or phone call, when an unusual transaction has been flagged. For more information on what these courtesy calls, texts, and emails look like, please click here.
If you have identified an unauthorized transaction on your debit card, you can always call our Card Care Center at (833) 462-0798 to report the transaction. Our representatives will be happy to walk through your recent transaction history with you and start the transaction dispute process.
If your debit card has been compromised with unauthorized transactions, you'll also want to contact one of our locations so a new debit card gets issued to you.
If reporting during office hours, call any of our locations and we'll be happy to shut your card off for you.
If reporting after office hours, please call our Card Care Center at: (833) 462-0798.
We also highly encourage you to review your transaction history with our Mobile Banking App for any unauthorized transactions that may have occured while your debit card was not in your possession. Please note, you only have 60 days to dispute unauthorized debit card transactions.